Meet the team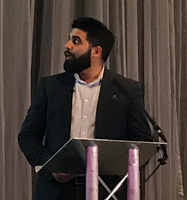 Tanj Jagpal
Administrator
It takes a lot of people to make a global community work. Experian colleagues across Europe, North America, Asia and Australia have worked hard to build the community and contribute content, and also support and moderate the community on an on-going basis. For that I would like to start by giving a virtual round of applause *applause*.
Below are some of the key individuals that I would like to highlight:
Administrators
Tanj Jagpal - that's me! I work as a product manager within Experian Data Quality and worked closely with our talented development teams across United Kingdom and Malaysia to introduce the community site. If you have any feedback, good or constructive, please do reach out to me by sending me a direct message (via the community inbox - top right). I hope the community helps you and your company develop a deeper understanding of how Experian can help you achieve (and hopefully exceed!) your objectives.
Antony Austin - Antony is a UI developer at Experian and was responsible for all of the front-end work required to bring the community site to life. He is an absolute wizard!
Moderators
Akshay Davis - As the Director of Product Consultancy and with 15 years experience with Experian, Akshay and his team hold a wealth of knowledge around Experian's data quality products and how they can benefit you and your company. He often shares tips and tricks so keep an eye out for those!
Steve Farr - Steve is constantly monitoring industry trends and ensuring Experian's products are aligned with what you need as well as understanding where new opportunities to broaden our capabilities may be.
Roberta Gill - Roberta leads the UX Content Team at Experian Data Quality and monitors the community regularly to not only determine potential user documentation enhancements but also contribute to posts by linking to existing user assistance resources.
Hilal El-Karsifi - Hilal sits in Experian Data Quality's support team. He works tirelessly to ensure support cases are dealt with quickly. The community site isn't for support related issues (bugs, error codes etc), so Hilal ensures any such posts in the forum are re-routed to our support ticket process.
Andrew Marr - Based in North America, Andrew is part of the Customer Success team. The community ensures the interaction he and his team has with you are as comprehensive and constructive as possible. Also great with a mic!
Rishi Patel - Based in North America again, Rishi moved over from the UK and is the Director of Sales Engineering for the NA region. He leads a talented team who are always establishing new ways to use Experian's technology to ensure you are getting the best return on your investment.
Chirag Vatvani - Chirag is based in Australia and is a Technical Support Analyst. Like some of the other moderators, Chirag is responsible in ensuring that the community remains a positive and constructive platform for its members.
Dara Rogers - Dara sits in the same team as Chirag as a Technical Consultant Analyst and works closely with stakeholders across the ANZ region to ensure any support requests are dealt with quickly.
Please do introduce yourselves in the comments below so the community can learn a little about you too!
Tagged: